Let Corner Stone Credit Union help you get your dream home. We offer a variety of mortgage solutions to ensure that you can find a place to call "home"—with a loan that meets your needs and fits your budget.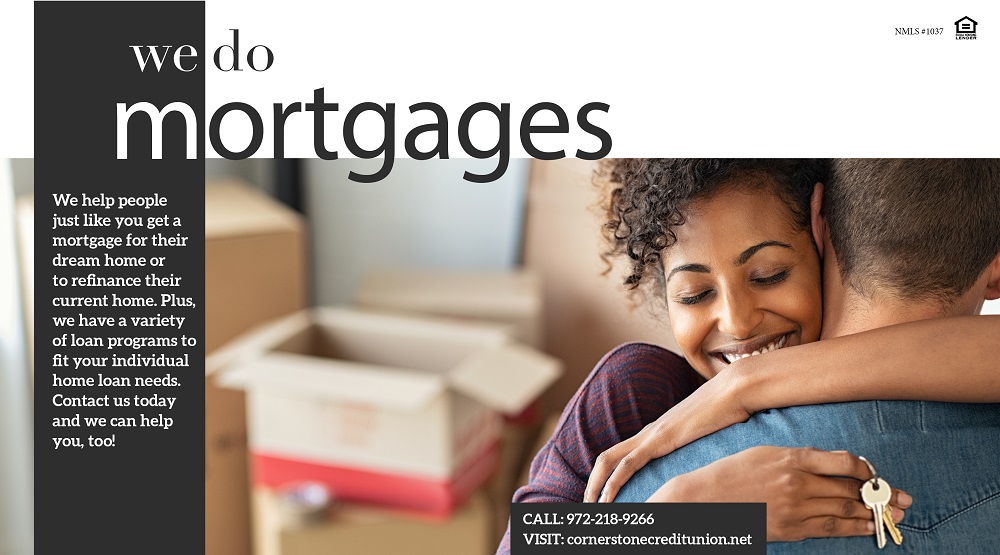 If you're ready to make a move, whether you're a first time homebuyer, are looking to downsize, or you're ready to buy that vacation home you've been looking for, we are ready to help you get the financing you need.
Through our partnership with The Servion Group, we're proud to provide our members with a wide variety of financing options such as:
Conventional Loans
FHA Loans
VA Loans
USDA Loans
Jumbo/Non-Conforming Loans
Fixed-rate and ARM options
We'll provide you with:
Responsive service and personalized guidance
Competitive rates and low closing costs
Support through the entire homebuying process

Ready to make your home ownership dreams a reality?
Call us at 972-218-9266 or send us an email at mbrservices@cornerstonecreditunion.net.
Click Here for the Uniform Residential Loan Application. Once your application is complete, please email it to mbrservice@cornerstonecreditunion.net or fax to 972-218-5887.
Click Here if you'd like to complete the application online. You'll need to create a log in to begin the application process.
Please contact the credit union for additional information or questions.